🌪 a whirlwind.
welcome to sam's brain drain, a weekly collection of thumb-stopping things to tap, read, & watch.
estimated reading time: 3m 51s.
🌪 well hello.
it's been a whirlwind of a week. i woke up in london on friday morning to find out that i was on the homepage of cnn.
i was working remotely from london city & i had to checkity-check myself a few times before going about my day.
how surreal is that?

on the agenda this week: flying, meatless mondays & thomas cook.
⚡️ tag me on instagram or twitter if you enjoy this week's brain drain!
---
📄 a note on flying:
by the time this email reaches you on monday morning, i'll be fast asleep in san francisco (jetlag dependent) for an extremely brief 48 hour stop.
by now, i feel i have a pretty good hold of the standard flying hacks—here's one that seems to go unmentioned: when checking in for a flight, don't do it immediately.
wait until a few seats have been pre-selected. then find a row that either has the window or aisle seat booked and book your opposing preference. i've had a window & middle seat to myself on 6 flights in the past 10 days. glorious.
---
👂 earworm:
emawk is a multi-faceted musician. his latest track, "18", is a story of growing up and falling in and out of love.
this visual is truly a special one. when you listen to emawk, you can tell that there is an immense amount of care that is being put into every note, melody and sound that is presented. his meticulous nature allows him to convey to his listeners every point of view that he sees. when it comes to this music video, the same feeling is felt. it plays like a movie but not so much to where it would overshadow the music. this is a visual that you'll want to replay over and over again.
read more via lyrical lemonade.
stream now:
listen on spotify or on apple music.
---
📚 word of the week
"cimmerian":
a member of a mythical people living in perpetual mist and darkness near the land of the dead.
what to you is clear as the daylight, may to me be as densely impenetrable as the cimmerian night.
- essays on scandinavian literature, hjalmar hjorth boyesen
---
🤪 mildly humorous:
some quality tweets this week.
To be an Irish country town you must have: - more pharmacies than people - 3 craft shops - a shoe shop that only people aged 40+ shop at - one 'good' pub - one 'dodgy'pub - hair salon with pun name "curl up and dye" - boutique selling rich mum scarves
everyone: silence of the lambs new york times: 𝑭𝒐𝒓 𝑳𝒂𝒎𝒃𝒔, 𝑺𝒊𝒍𝒆𝒏𝒄𝒆
---
🧠 brain candy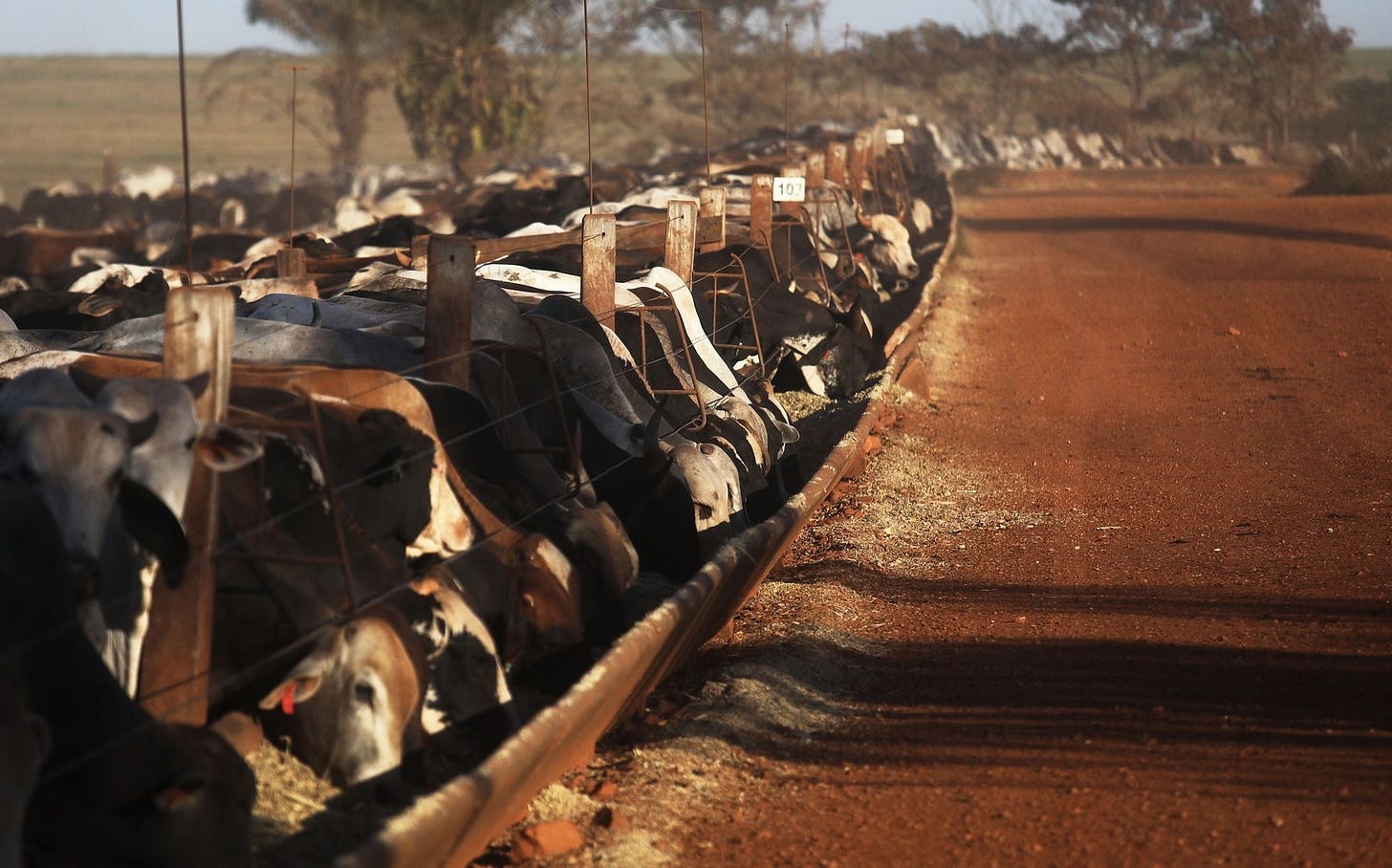 global meat consumption has more than doubled since the 1960s, and meat production is set to double again by 2050. in one way, that's a good thing — proof that rising incomes are supporting higher living standards in developing countries. but americans, famous for enjoying too much of a good thing, still eat three times as much meat as the global average. for solid self-interested reasons, they and other rich-world diners ought to curb their appetite.


consider this: livestock are responsible for 12% of man-made greenhouse-gas emissions, more than the entire aviation industry. most of that comes from just one animal: the humble, gassy cow. on a per-calorie basis, cattle are responsible for vastly more emissions than chickens and pigs, in part because their digestive systems produce methane, a potent greenhouse gas. from a climate-change perspective, serving your family roast beef at dinner is as bad as driving about 100 miles in the average car.
founded in the 1840s by a victorian entrepreneur of the same name, thomas cook started out by running train trips through the english midlands. the business expanded as britain's growing middle class discovered they had more time -- and money -- to discover the delights of continental europe. briefly absorbed into the state rail company soon after world war ii, the company got its biggest boost in the 1970s and 1980s as britons sought the sun on a cheap budget. the ad slogan "don't just book it, thomas cook it" entered the national psyche. but the company labored under its large debt burden and the costs associated with maintaining a high-profile presence in britain's provincial towns. nimbler online rivals ate into its core business and a succession of turnaround plans failed to stick, while the sluggish european vacation market and uncertainty over the economic impact of brexit crimped demand more recently.


the slowing global economy and signs of a pullback in chinese tourist travel may have prevented fosun tourism from raising its bailout package. the company, which bought into thomas cook in 2015, "is probably concerned about spending too much to get too little on their investment," said andrew collier, managing director of orient capital research in hong kong. "this marks a deeply sad day for the company which pioneered package holidays and made travel possible for millions of people around the world," ceo fankhauser said monday.
---
that's all for this week.
i hope you hold me accountable to keep this interesting 😝.

😌 see you next monday!
---
🦶 footer:
did you know that word of mouth is the only way something like this grows?
tell one of your colleagues what they're missing out on 😈.
they can sign up here.

you can also share this on facebook
or tweet about it.
🚨 if you post a screenshot to instagram stories of your favourite part of the email & tag me (@sam.travel), i'll repost the best ones.
---
🎉 get social:
instagram: @sam.travel
twitter: @sammcallister
email me: smcallis[at]gmail.com
website: sammcallister.me
---
👋 read more of my posts:
👁 an eye for an eye in hong kong.
🚶‍♂️ everywhere, everywhen.
🇺🇸 a note on death.
😏 new emoji?
⚡️ the power of aligned incentives.
💡 rising from the ashes, again.