🤖 i did not write this.
welcome to sam's brain drain, a weekly collection of thumb-stopping things to tap, read, & watch.
estimated reading time: 4m 16s.
🙃 buongiorno.
this time next monday i'll likely be enjoying a delicious caffè by the water in venice.
i'm writing two brain drains simultaneously in a courageous effort not to skip a week.
on the agenda this week: machine-learning, shipping water, & hidden wires.
⚡️ tag me on instagram or twitter if you enjoy this week's brain drain!
---
📄 a note on the future of writing:
writing in the post-millennial era, where understanding and disseminating information is easier than ever, it is worth revisiting this chapter for its cultural value, as well as for its relevance. what does it mean that a group of scientists would even contemplate using the world's most advanced computing and software tools to try to improve the animal researchers, including biologists, who try to answer difficult questions about neurological diseases, diseases in the brain and the brain's memory?
what is it about human cognition and cognition in general that makes us uniquely susceptible to technological reinvention? (his citation for the (dear god!) cogito quotation of the title was also, interestingly, annotated with a text file containing ai machine learning).
---
⚠️⚠️⚠️
before you think i've absolutely lost the plot, i should let you in on a secret.
i didn't write any of the above text.
it was generated by a machine learning model, based on some basic inputs i gave it. i contemplated having it write the entire newsletter, but i guess that can wait for another week 🤪.
the model was built by the allen institute for ai—its goal is to reliably detect artificially generated "fake news" so that its harm can be minimised. it's a clever approach—to study and detect neural fake news, they fought fire with fire by building a model named grover:
our study presents a surprising result: the best way to detect neural fake news is to use a model that is also a generator. the generator is most familiar with its own habits, quirks, and traits, as well as those from similar ai models, especially those trained on similar data, i.e. publicly available news. our model, grover, is a generator that can easily spot its own generated fake news articles, as well as those generated by other ais. in a challenging setting with limited access to neural fake news articles, grover obtains over 92% accuracy at telling apart human-written from machine-written news.
---
👂 earworm:
if you haven't listened to, or heard of the blaze—i forgive you. somewhat.
but now it's time to make amends:
the blaze's songs and videos work on these terms as well—epic, rough-hewed emotional landscapes that surge and yearn, pulsing thickly with sun-streaked, blurry edges. it is body music—dance music—but it works subcutaneously, operating on the level of emotion and thought more than movement. in the lineage of heavily exported french dance music, it's less plastic than daft punk, less brute than justice. and as a contrast to the red bull orgy that is contemporary dance music culture, particularly in the festival context, the blaze are monastic outliers.

read more via the new york times.
stream now:
listen on spotify or on apple music.
---
📚 word of the week
"cellar-door":
this week's word is a bit of a trick answer.
cellar-door is often held up as an example of the most beautiful euphonic sound combinations. j.r.r. tolkien, author of the hobbit and lord of the rings, is credited as one of the first to make this claim.

this is a phoneaesthetic word, deriving from two greek words meaning "voice-sound" and "aesthetics."
---
🧠 brain candy
this consumer packaged goods (cpg) startup is looking to reduce household waste in an innovative way: get rid of the water.
if you quickly scan through the products under your sink–counter spray, window cleaner, dish soap–they all have one thing in common: water is their main ingredient. until now, few consumers thought this was a problem. but as a growing number of people become increasingly aware of both climate change and plastic pollution, the outsize environmental impact of everyday products is becoming hard to ignore.

"we're basically shipping water around the country," says heather kauffman, cofounder and coo of full circle, who keeps an eye on the home cleaning products industry since her company creates complementary products, like dish brushes and sponges. "water is something we all have readily available at home. if you think about the carbon emissions required to ship bottles largely filled with water from the manufacturer to the retailer and then to the consumer's home, it really adds up."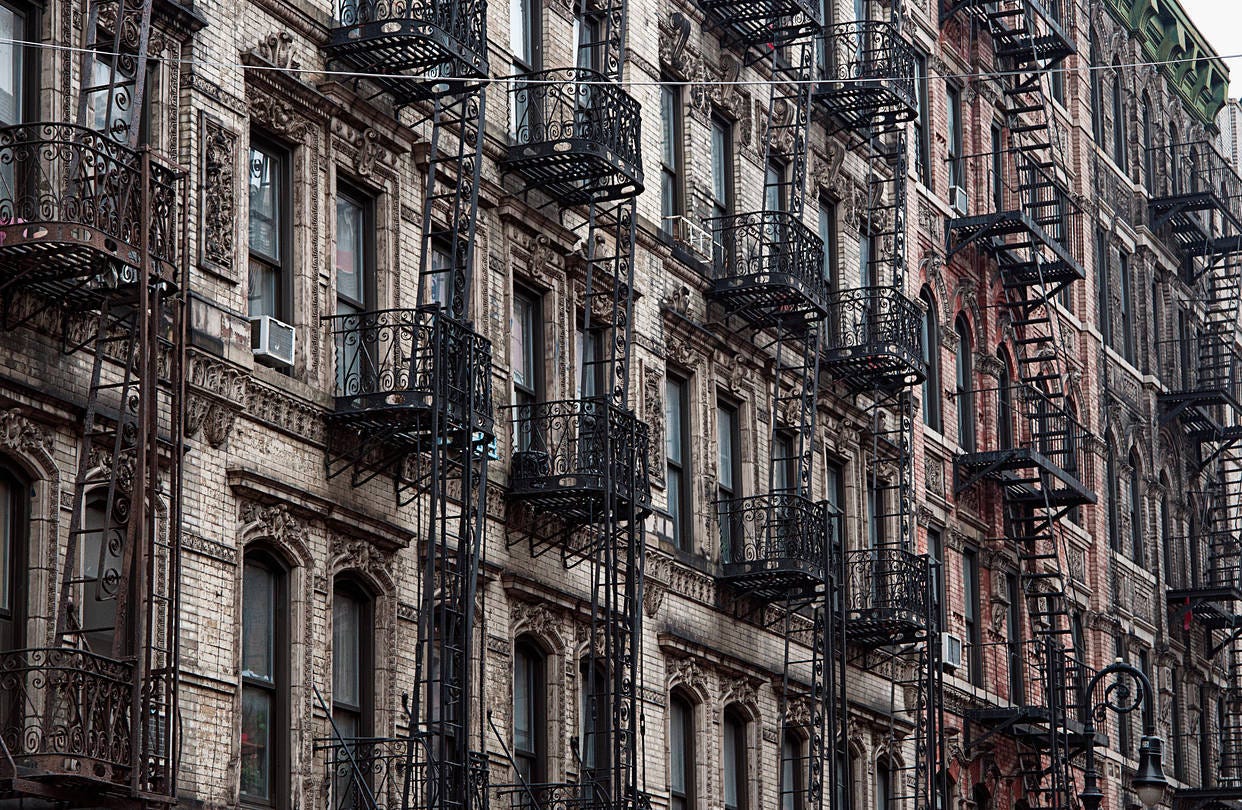 unbeknownst to many, there are translucent fishing lines wrapping around manhattan:
a nearly invisible wire runs from 126th street in harlem, down to battery park and back up to 111th along the east river. the line has been in place, in some form or another, for just over a century.

from just before dusk on friday to just after dusk on saturday, observant jews are prohibited from performing many basic activities, and the observance of this law has been updated over time to reflect current technologies, such as cars, electricity, and keys. "carrying from one domain to another," or moving objects between public and private areas, for example, is forbidden.

eruvin (the plural of eruv) transcend this restrictive rule by serving as a symbolic border that links together many private spaces in the community, which in turn permits people to ferry around keys, children, and canes, or push wheelchairs and strollers.
---
🤪 mildly humorous:
[gesturing vaguely in the general direction of my life] oh no
I 🌸 took ✨ just a 💕 🌸 DNA ✨ 🌸 Test ✨ 💕 turns out ✨ 🌸 i'm 100% 💕 ✨ 💕 regretting giving my genetic data to a private firm
Me: screw you and the horse you rode in on Horse he rode in on who's done nothing wrong: what the hell
---
that's all for this week.
i hope you hold me accountable to keep this interesting 😝.

😌 see you next monday!
---
🦶 footer:
did you know that word of mouth is the only way something like this grows?
tell one of your colleagues what they're missing out on 😈.
they can sign up here.

you can also share this on facebook
or tweet about it.
🚨 if you post a screenshot to instagram stories of your favourite part of the email & tag me (@sam.travel), i'll repost the best ones.
---
🎉 get social:
instagram: @sam.travel
twitter: @sammcallister
email me: smcallis[at]gmail.com
website: sammcallister.me